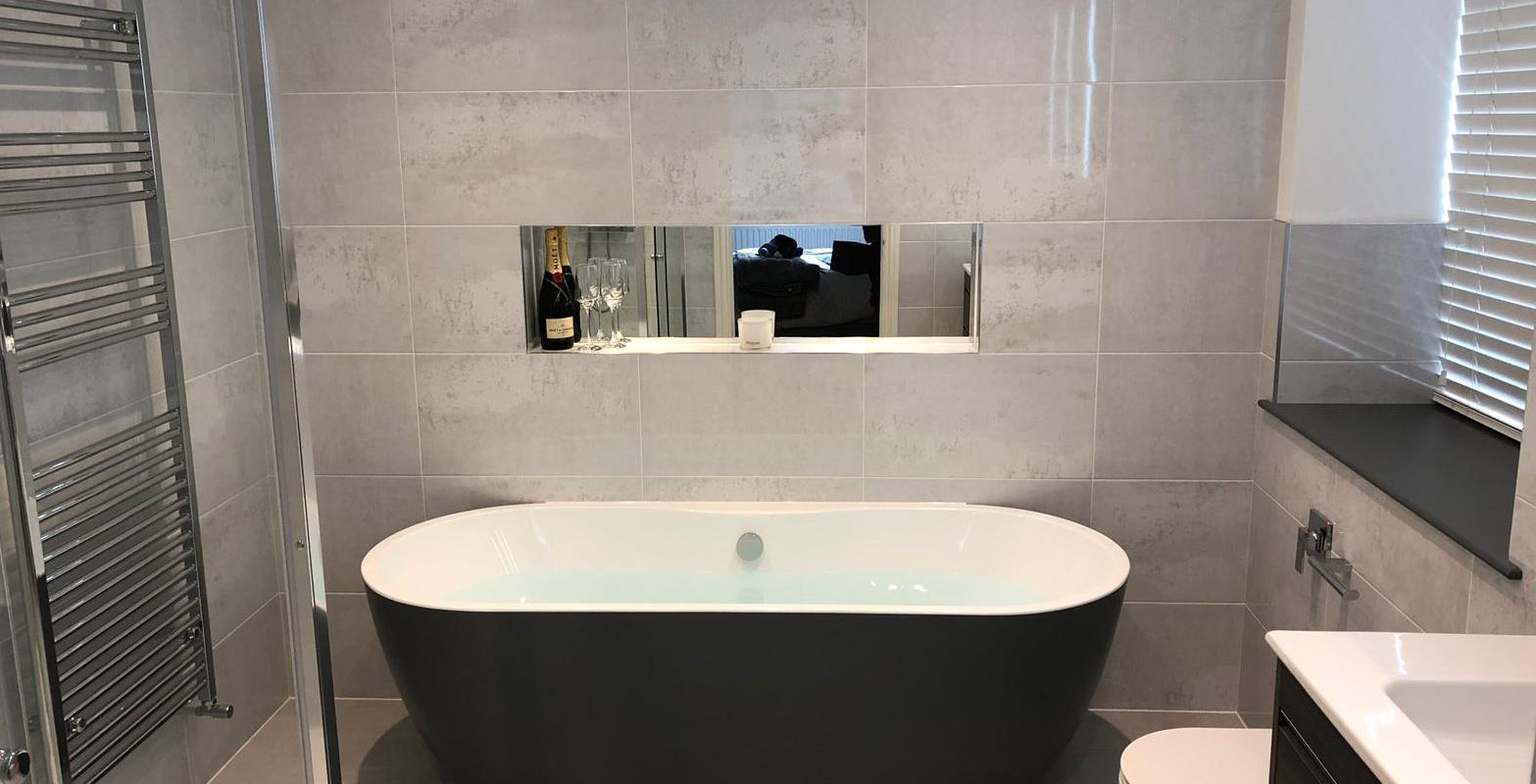 Spraying Kitchen Units, bathrooms, windows, doors and furniture
With the development of new paints and products, the convenience of paint spraying has been extended way beyond just your vehicle.
We can transform your kitchen units, windows, doors and many other items in your home or office for a fraction of the cost of replacement.
This also means reduced disruption and inconvenience.
We will visit you on-site and remove as many items as possible and take these back to our workshop. Any items that are fitted and cannot be removed will be sprayed in situ. We will mask and sheet the full room and use our mobile extractor to keep fumes and dust to as much of a minimum as possible.
We understand your home is important and your pride and joy so will treat it with respect and leave it in a clean condition whilst also leaving you with minimal disruption.
All items taken back to the workshop will be cleaned, sanded and primed ready for paint. We use a product that offers a wide range of colours and finishes including all Farrow & Ball, Little Greene & RAL colours. We can also offer a selection of Dulux colours subject to availability.
We often receive a wide range of requests for items to be sprayed including radiators, beds, baths and salon hairdryers! If you have any requests of your own or want any further information, please contact us now.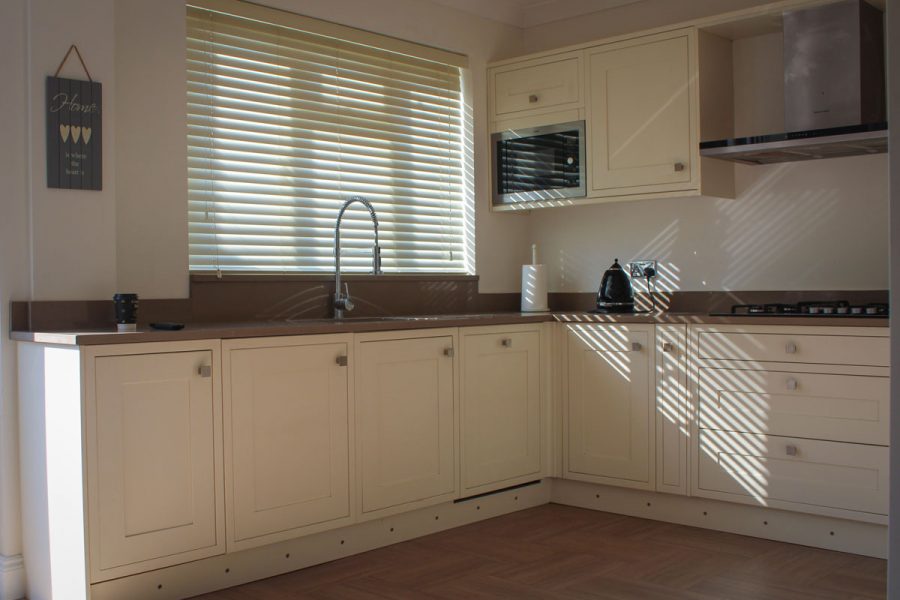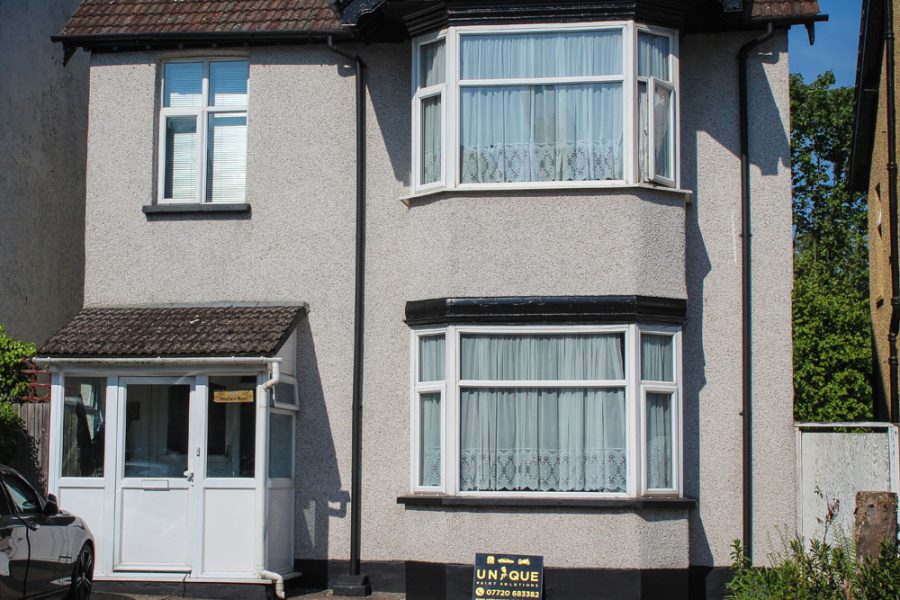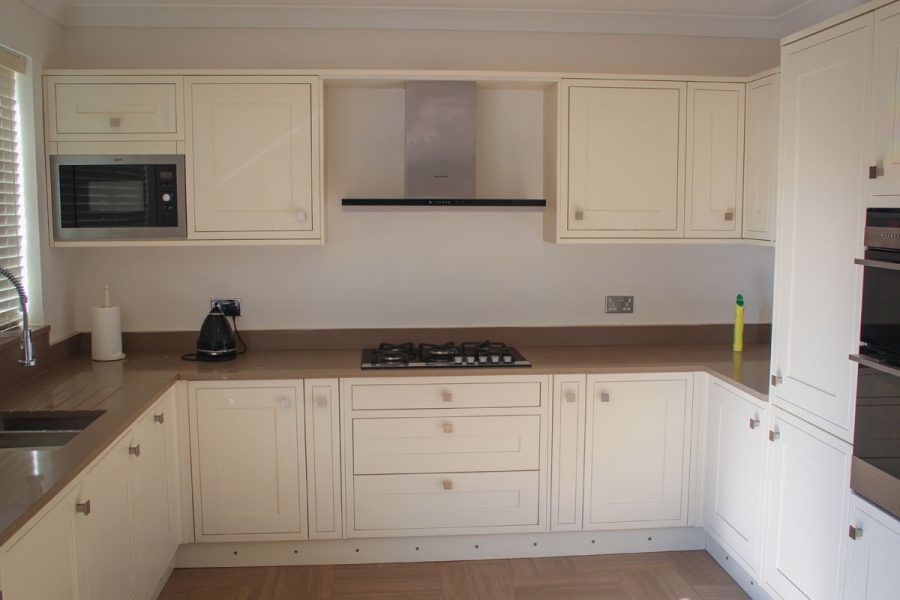 Kitchen Units
We can completely re-spray all of your doors, trims and end panels using any RAL or Farrow & Ball colour in a variety of finishes. We will strip all removeable items in your kitchen suite, take them to our workshop for spraying, then return and re-fit.
Any items that are fitted and unable to be removed will be sprayed in situ with all surrounding areas masked and covered. The end result is a brand new kitchen designed by you, exactly the way you want it.
UPVC Windows & Doors
For many years most windows and doors were always made in white. Now many customers are looking for a modern, updated look to their home. We are able to offer a wide range of colours and finishes to give you the Unique look you are after. Using specialist UPVC paint which chemically bonds to the surface gives a long lasting durable solution.
All re-spraying can be carried out on new windows and doors prior to fitting or on existing windows without needing to be removed.
Bathroom
Many bathrooms have fitted cupboards and panels which we are able to paint just the same as in your kitchen. With our wider range of products we can also carry out various repairs and re-colouring to baths, sinks and tiles.
Furniture
Sometimes you may have a certain piece of furniture that you love or has a deeper value but is looking old and tired or doesn't fit in the colour scheme you are looking to upgrade to. We are able to offer a wide range of repairs and colours which could save the expense of replacement.
If you require any further information regarding repairs or re-spraying of any other item please contact us as we may be able to help.